Mr. Bill's Auto Body Shop
Collision • Car Restoration • Paint
Southern California Best Value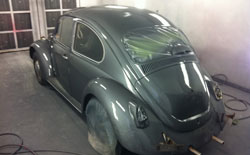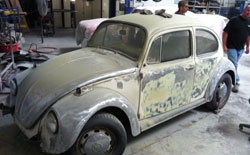 Call us today for a free phone estimate
Our work is 100% satisfaction guaranteed
We beat competitors' written prices by 10%
Mr. Bill's Body Shop Service has been Southern California's best value in auto body repair for over 25 years. We are a full-service, state-of-the-art auto body shop serving individuals, auto dealerships and commercial clients in Temecula, Murrieta, and greater Riverside County, as well as Orange County, San Bernardino County, and North San Diego County. We are fully authorized by insurance companies and have extensive experience working on thousands of domestic and imported vehicles of all makes and models. Our fully licensed auto body paint and repair technicians are highly experienced, extensively trained, and ASE and I-CAR certified.
We work on all types of vehicles, from cars and Harley motorcycles to boats and full-size motor homes. Mr. Bill's Body Shop provides a full range of specialized services, from major collision and unibody repair to custom painting and complete car restoration. We offer undetectable ding, dent and scratch removal, rock chip repair, and plastic bumper repair. Our experienced technicians can flawlessly repair scratched, scuffed, and/or dented bumpers for a fraction of the cost of bumper replacement. We use the most advanced tools and techniques in the industry, including state-of-the-art computerized color matching scanners for that perfect color match. We also offer full auto detailing, color/sanding/buffing services, and more. Our comprehensive services truly make Mr. Bill's Body Shop five auto body shops in one.
At Mr. Bill's, we pride ourselves on our unparalleled customer care; we offer free phone estimates and a full satisfaction guarantee with every repair. We perform all insurance approved auto body repairs, and even if your insurance doesn't cover your repair, we are so confident we provide the best value in auto body services that we'll beat any written estimate by 10%. Our thousands of satisfied clients are a testament to our affordability, expertise, and honest service.